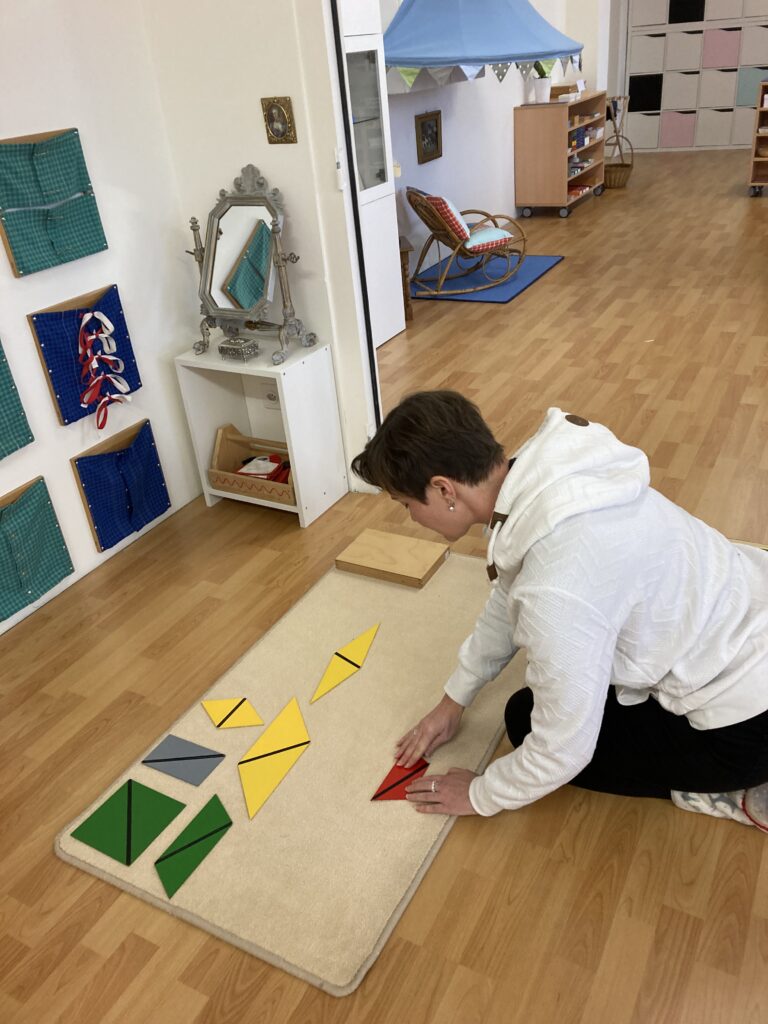 The Diploma Course 2024-2025 starts on Saturday, 24.08.2024.
Registration open.
Course duration
1 year: 24.08.2024-03.10.2025
Timetable
Modules are held during 8 weeks of school vacations and on weekends (Friday / Saturday).
Theory modules are online. The practical parts on site. A portion of the course will be self-study.
The observation and collaboration weeks are essential parts of the diploma course (170 hours, approx. 7-8 weeks). It is possible to complete half of these internships in your own Children's House.

Course start: Saturday, 24.08.2024 and Sunday, 25.08.2024
Course ending (graduation ceremony): Friday, 03.10.2025
The exact course dates will follow.
Course location
Training Center Montessori CH, Bahnhofstrasse 13, 5012 Schönenwerd
Course language
The course is held in German and translated into English.
Course Objective
The goal of the AMI Montessori Training Course is to prepare adults for the task of helping children develop their full human potential. It is the responsibility of the Montessori teacher to create a learning environment that is conducive to the child expanding his or her knowledge through his or her own discovery and exploration in all subject areas.
Admission requirements
* Students should be at least 18 years old.
* Students must have completed a professional apprenticeship. Preferably in pedagogy or child education.
* Training as a FABE or kindergarten teacher are an advantage.
In order to be allowed to teach at a Montessori institution after completing the course, a state-recognized educational degree for the appropriate age level is usually required. Although this is not an entry requirement of the course, it is recommended to clarify its necessity for the intended activity in the country concerned.
Course guidelines
In this document you will find the guidelines of the course.
Book list
In preparation for the course, students are required to read a few books.
Here you can find the book list
| | |
| --- | --- |
| Course fees | CHF |
| Registration fee | 500.00 |
| Children's House course | 9'800.00 |
| Examination fee | 800.00 |
High quality and personal guidance are important to us. Therefore, the number of participants is limited. We recommend early registration.
Registration
You can download the registration form here.
Trainer: Mariza Hefty
Mariza Hefty is an early childhood educator / kindergarten teacher and AMI Director of Training for the 3-6 year old child. She received her AMI 3-6 diploma from the Montessori International Training Center in Munich, Germany. She began her career in early childhood education, during which time she worked in various daycare centers and managed her own daycare for many years. She is the mother of twins who went to a Montessori school starting in 2005. Since that time, she has helped establish several Montessori children's homes in Switzerland as a lead classroom teacher.Mariza has advanced Montessori education in Switzerland through her work as a board member of Montessori CH and through her contribution to the establishment of the new training center in Zurich. For the training center, Mariza conducts many parent and teacher training workshops and quite a few orientation courses. For the past ten years, Mariza has organized and supported the AMI Diploma Courses 3-6 for Montessori CH. She has consulted with several Montessori children's homes in Switzerland to improve prepared environments and help teachers manage the classroom. Outside of her Montessori activities, she works a small stint as a lecturer at the vocational schools in Zurich and Lucerne for the training to become a specialist in childcare.
She is currently teaching her first AMI 3-6 Diploma course in Schönenwerd and is on the road as a Montessori Children's House Consultant in various settings. Her mentors were: Marja-Leena Tyrvainen, Irene Fafalios and Shannon Helfrich. With her life partner Markus, she goes on many hikes in her free time, loves to dance for a living and loves to sit comfortably on the sofa with her 2 cats and get engrossed in a reading.