In collaboration with DAMIP
Information evening for the AMI Montessori 6-12 Diploma
Register now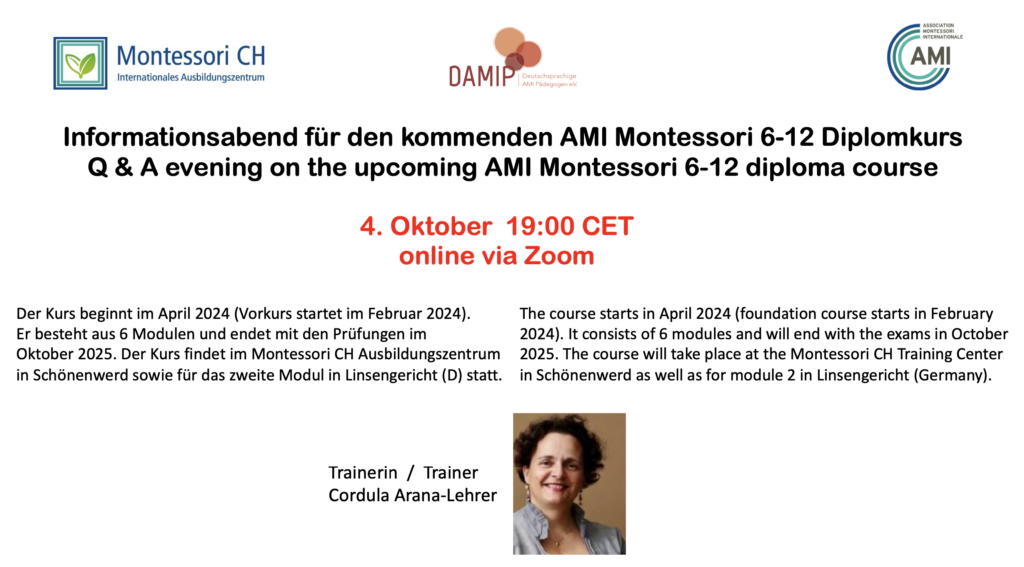 This course teaches the pedagogy of Maria Montessori for the 6-12 year old children. It begins with a 'foundation course', which is compulsory for all students, introduces the basic principles and and an overview for the children from age 3-6.
The course is certified by the Association Montessori Internationale (AMI). The guidelines for course content and rules by which a student can be awarded an international diploma are set by AMI.
Foundation course
05.02.204 – 09.02.2024 (online)
26.02.2024 – 01.03.2024 (onsite)
04.03.2024 – 08.03.2024 (onsite)
Module 1
08.04.2024 – 03.05.2024 (4 weeks)
Module 2
23.07.2024 – 16.08.2024 (4 weeks)
Module 3
30.09.2024 – 18.10.2024 (3 weeks)
Module 4
14.04.2025 – 09.05.2025 (4 weeks)
Module 5
21.07.2025 – 15.08.2025 (4 weeks)
Module 6
06.10.2025 – 24.10.2025 (3 weeks)
Exams
27.10.2025 – 31.10.2025 (1 week)
Course Location:
Montessori CH Training Center, Bahnhofstrasse 13, 5012 Schönenwerd
The course is held in cooperation with DAMIP.
The second module will take place in Linsengericht, Germany.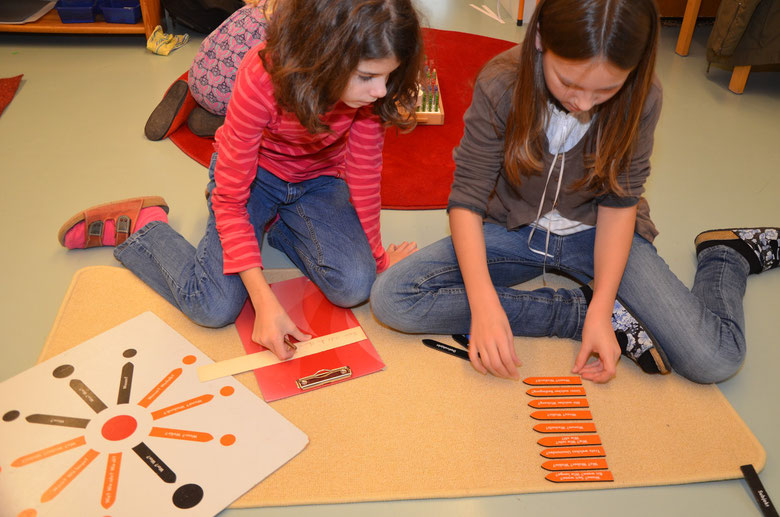 Material Practice
The students are presented with Montessori materials and have time to practice and learn how to use these materials. This practice is supervised by trained professionals.
Observation in Montessori Classrooms
Observation is one of the most important elements of Montessori education. The students will visit Montessori classrooms and learn to observe the development of children.
Practice Teaching
Before a student teacher is ready to lead their own classroom, they must practice the presentation of lessons and teaching activities. This practical teaching includes opportunities to work under the supervision of an experienced Montessori teacher.
Albums
All lessons in an AMI course are written down by the student and collected in 'Albums'. These Albums are read and corrected by a Montessori teacher. The albums serve the teacher in their future work with the children.
Exams
At the end of the course, students will complete written and oral exams. These exams are supervised by external examiners appointed by the Association Montessori Internationale (AMI).
Course Language
The course is in English and German – the lectures may be presented in either language, with translation to the other language.
Course Schedule
The schedule requires students to be present from 8:00 – 16:30 Monday-Friday, and occasionally on a Saturday or evening. The full details will be provided to students closer to the course commenvement. Observation and Practical Teaching is scheduled in the normal school weeks in between the course modules:
Observations in Montessori classrooms: 90 hours, (approximately 3 weeks)
Teaching Practice: 120 hours, (approximately 5 weeks)
These hours are scheduled in consultation with the course management and according to the individual plan of each student. The course management will decide which schools are approved for observation and practical teaching experience.
Course Fees
| | |
| --- | --- |
| Fee | in CHF |
| Application Fee | 500.00 |
| Foundation Course | 2'320.00 |
| Teaching Diploma | 12'180.00 |
| Exam Fee | 800.00 |
Course fees are to be paid in CHF. The course fees may be paid in installments.
Trainers

Entry Requirements
In order to be successful as a Montessori teacher, a sufficient level of basic education is required. As such, we will accept students to the course who hold:
Swiss Matura
Completed Apprenticeship
At least half of a Swiss teacher's qualification (first state examination)
Completed studies in pedagogy or psychology.
Bachelor's Degree or higher in any area of study.
In addition to the vocational training and employment certificates, three reference letters must be submitted, recommending the student to undertake the course. The decision to accept a student to the course will be made on the basis of submitted documents and a detailed interview.
In order to teach at a Montessori school after the completion of the AMI course, a state licence is required. Although this is not an entry requirement for the course, it is recommended that students check what will be needed for licencing as a teacher in the country or state in which they plan to work.
Travel and Accommodation
Students are responsible for their own travel and accommodation costs.