Practicals
The course puts an emphasis on participants practicing the presentations with the original material in a supervised environment. Practice sessions are mandatory and will be offered during the course.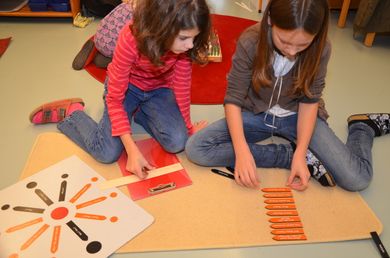 Observations
Observing is one of the most important elements of the Montessori pedagogy. Therefore, the course includes observations of children in Montessori classrooms.
Student teaching
Before the future teacher takes the responsibility of guiding a school class, there must be the opportunity to practice presenting the materials and performing other teacher related activities in a secure teaching environment. The course, therefore, includes practicals with children in a real Montessori classroom.
Albums
All lessons given in an AMI-Course will be recorded in writing and organized into albums by the participants and will be read and corrected by a Montessori pedagogue. The albums will serve as a reference to the teachers throughout their teaching careers.
Exams
The course concludes with an exam. AMI makes up the exam questions for the written section of the exam and the oral section of the exam will be done in front of an AMI examiner who will be sent by AMI.
Course-language
The lectures will be held in English or German and translated vice versa.